Die-cutting machines are devices that allow for the cutting of cardboard using cutting dies. In one complete cycle, the machine takes in the material, cuts it, and cleans the die by removing any excess cardboard scraps or debris. Die-cutting machines ensure high-quality cutting and maintain the dimensions of the cut cardboard throughout the production process. These machines come in various formats and designs, tailored for solid or corrugated cardboard. They can be configured to meet specific customer needs.
The machines are equipped with modern electronic solutions that ensure precision and increase the efficiency of the machine, reducing the setup time for a different die to less than 10 minutes. It is possible to add a special rotating table that allows for the pre-preparation of the die for the next production, significantly reducing the time required to switch orders throughout the day. The cleaning section is introduced using special guides, eliminating the need for centering the die with the cleaning board. The die-cutting machine achieves a very high production speed of over 5,000 cycles per hour while maintaining precision in cutting and cleaning the cardboard. The machine meets all safety standards and allows for easy operation. With a series of sensors monitoring the material flow during the machine cycle, the operator receives specific information about any issues, saving time on troubleshooting cardboard jams. It is also possible to install a pre-preparation die table, allowing for the quick insertion of a ready die with mounted counters.
Pre-feeder and breakers
The machine can work in line and be installed together with an automatic cardboard feeder, and at its output, a breaker and palletizer can be installed.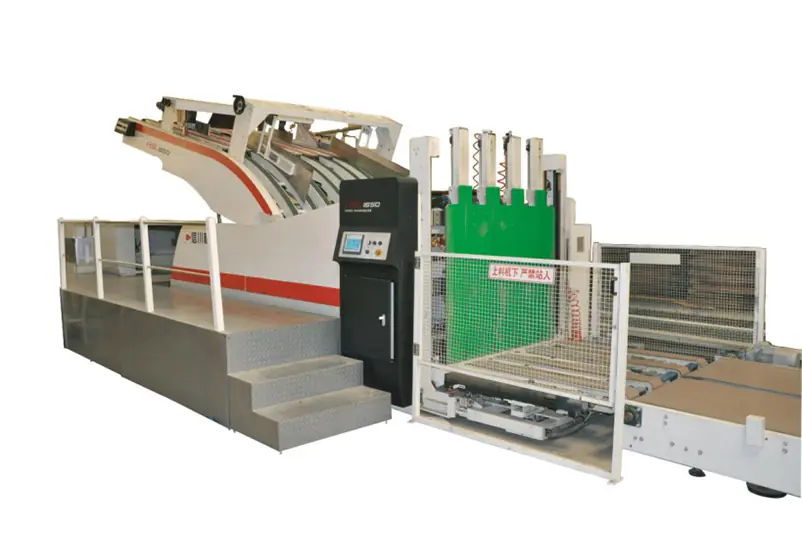 The machines are available in various configurations and sizes. For fully automatic machines, the largest cardboard cutting format is 2200×1500, while the smallest is 1330×980. In the case of solid cardboard, the size is 1050x750mm.
Technical specifications
| | | |
| --- | --- | --- |
| Model | OPAK 1600 | OPAK 1670Q |
| Maximum cardboard format | 1650×1200mm | 1670×1260 |
| Minimum cardboard format | 650×500mm | 650×500 |
| Maximum cutting format | 1630×1180mm | 1640×1230 |
| Maximum press force | 450×104N | 400 T |
| Maximum mechanical speed | 5500 szt./h | 5000 sz./h |
| Adjustment range | ±1,5 mm | ±1,5 mm |
| Total power of the machine | 40.5kw | 42kw |
| Machine dimensions with platform | 11200×5560×2550mm | 10400x5400x2900 |
| Machine weight | ≈38t | ≈38t |
Realizations
Loading of machines and delivery of die-cutting automations, including one with a pre-feeder.
Installation of die-cutting automation at the customer's site.
Do you need more information?